Вебінар для переможців конкурсів Еразмус Мундус 2022 р. (8.12.2022)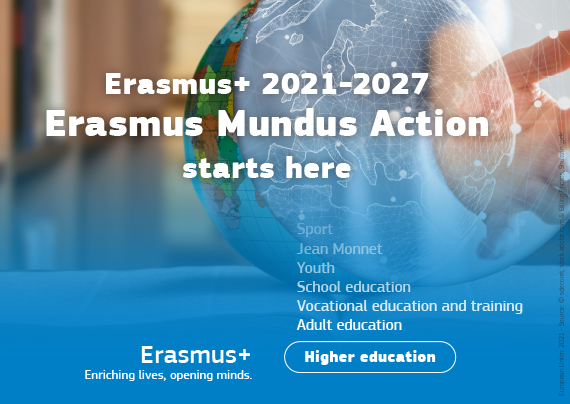 Переможці та виконавці проєктів спільних магістерських програм Еразмус Мундус, запрошуються до відкриття проєктів Програми ЄС Еразмус+ Напряму Еразмус Мундус.
Ви зможете дізнатись про деталі особливості впровадження проєктів.
Read more...
Інформаційний день про конкурси Еразмус Мундус для ЗВО (22.11.2022р.)
Якщо Ваш заклад вищої освіти чи організація зацікавлена розвивати спільні магістерські програми, створювати ї та впроваджувати, то запрошуємо Вас ознайомитись з матеріалами презентованими на Міжнародному інформаційному дні Програми ЄС Еразмус+ Напряму Еразмус Мундус.
Read more...
Invitation to participate in the conference (Nov 8, 2022)
The National Erasmus+ office — Ukraine invites you to participate in the XI International Scientific and Practical Conference "EUROPEAN INTEGRATION OF HIGHER EDUCATION OF UKRAINE IN THE CONTEXT OF THE BOLOGNA PROCESS. Recovery: challenges, approaches and tools", organized jointly with the Taras Shevchenko Kyiv National University and the Institute of Higher Education of the National Academy of Sciences of Ukraine with the support of the European Executive Agency for Education and Culture of the European Commission, the Ministry of Education and Science of Ukraine, the National Agency for Quality Assurance of Higher Education, the National Academy of Pedagogical Sciences of Ukraine, the Union of Rectors of Higher Education Institutions of Ukraine and the British Council in Ukraine.
Read more...
Page 9 of 185