We invite you to participate in the round table (25.11.2021)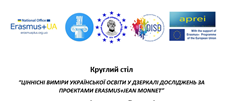 What? Round table "VALUE DIMENSIONS OF UKRAINIAN EDUCATION IN THE MIRROR OF RESEARCH ON ERASMUS+ JEAN MONNET PROJECTS"
When? November 25, 2021, 10:00 - 12:00
Where? Online (ZOOM platform)
Registration - follow the link. European Higher Education Area.
Read more...
TAM event (10.11.2021, ZOOM platform)
The National Erasmus+ Office — Ukraine on 10th November 2021 performed the X International Scientific and Practical Conference "European Integration of Higher Education of Ukraine in the context of the Bologna Process. Quality Assessment: Approaches and Tools", initiated and organized jointly with the Institute of Higher Education, NAESU and the Taras Shevchenko National University of Kyiv and in close cooperation with the Ministry of Education and Science of Ukraine, National Academy of Educational Sciences of Ukraine, National Agency for Quality Assurance in Higher Education, Union of Rectors of Higher Education Institutions of Ukraine and British Council in Ukraine in frame of the Technical Assistant Mission (TAM) provided by SPHERE, EACEA.
Read more...
Implementation of the EU initiative (28.10.2021)
On October 28, 2021, the National Erasmus + Office in Ukraine joined the All-Ukrainian Conference on Higher Education with international participation "Environmentally Oriented Higher Education. Methodology and practice - 2021".
Read more...
Page 8 of 147