Presentation (11.05.2023, online)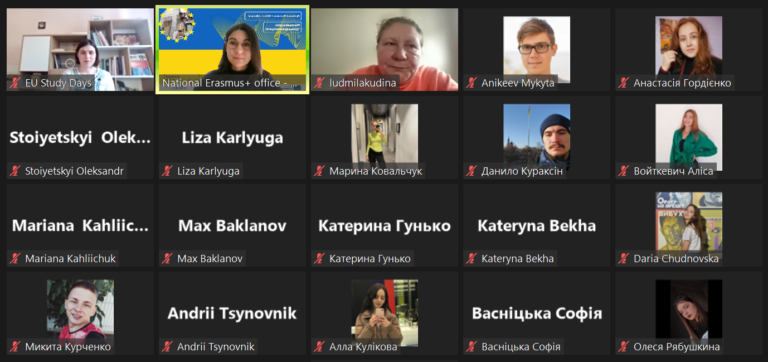 On May 11, 2023, the team of the National Erasmus+ office – Ukraine held a presentation of the individual opportunities of the EU Erasmus+ Programme as part of the EU Study Days webinar "Overview of EU Opportunities".
The event was attended by about 25 participants who are interested in exchange programs, language skills development and study abroad experience.
During the event, Kateryna ZHDANOVA, manager of NEO 

–

Ukraine, presented the possibilities of the Erasmus+ Programme for active youth. The speaker presented individual opportunities for students and employees of educational institutions and the introduction of the Programme for Ukrainians during the war. Additional educational opportunities from various EU states with the support of active youth of Ukraine were also presented. During the presentation, clear recommendations were given regarding the search for opportunities, the preparation of the package of documents and the expected results of exchanges and studies under Erasmus Mundus joint master's programs. After the presentation, the speaker presented opportunities for youth exchanges and participation in volunteer projects as additional Erasmus+ opportunities for the summer period.
At the end of the event, the participants talked with the students, who shared stories about how they got into the Erasmus+ exchange program, what experience they got, and how they actually dared to participate.