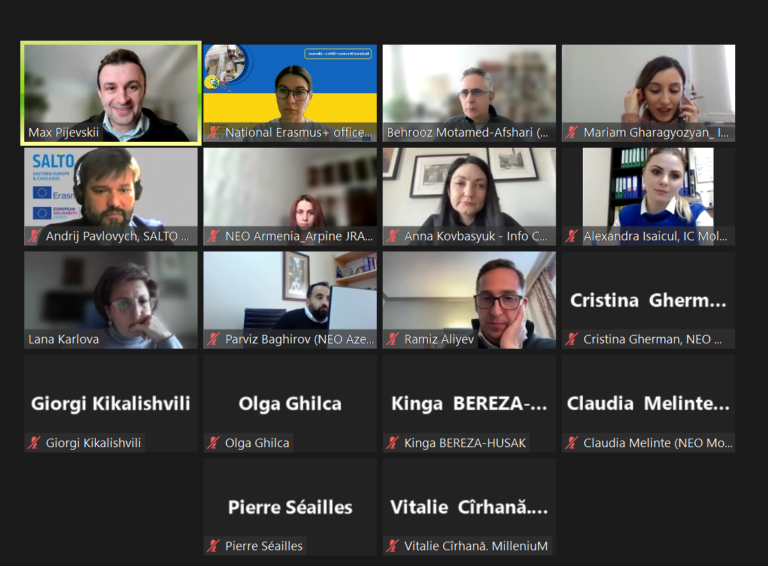 On April 5, 2023, the NEO team – Ukraine joined the presentation of the EU4Youth pogramme organized by the EU4Youth Coordination and Support Team with the cooperation of Salto-Youth. The purpose of the event was to present youth support initiatives and cooperation opportunities within the Programme.
The event was attended by about 20 participants – representatives of National Erasmus+ offices and Erasmus+ Youth Information Centers and the European Solidarity Corps from Ukraine, Modova, Armenia, Azerbaijan and other countries.
Achievements Report EU4Youth 2021
Andrii PAVLOVYCH, Salto-Youth, presented achievements within the framework of youth projects during previous years, and also presented opportunities of the Salto-Youth portal on the relevant topics: Youth Participation; Media, Information&Critical thinking, Promotion&Outreach, Digital Transformation.
Svitlana SHYTIKOVA and Kateryna ZHDANOVA, NEO – Ukraine, together with Anna KOVBASYUK, Information Center for Erasmus+ Youth in Ukraine took part in the event. Together with the participants, speakers discussed oppportunities of the EU4Youth program, its calls' priorities, as well as the needs and challenges of supporting Ukrainian youth. During the discussion, speakers also emphasized additional needs on cooperation with youth organizations from Ukraine for the development of potential and joint projects in the post-war period.