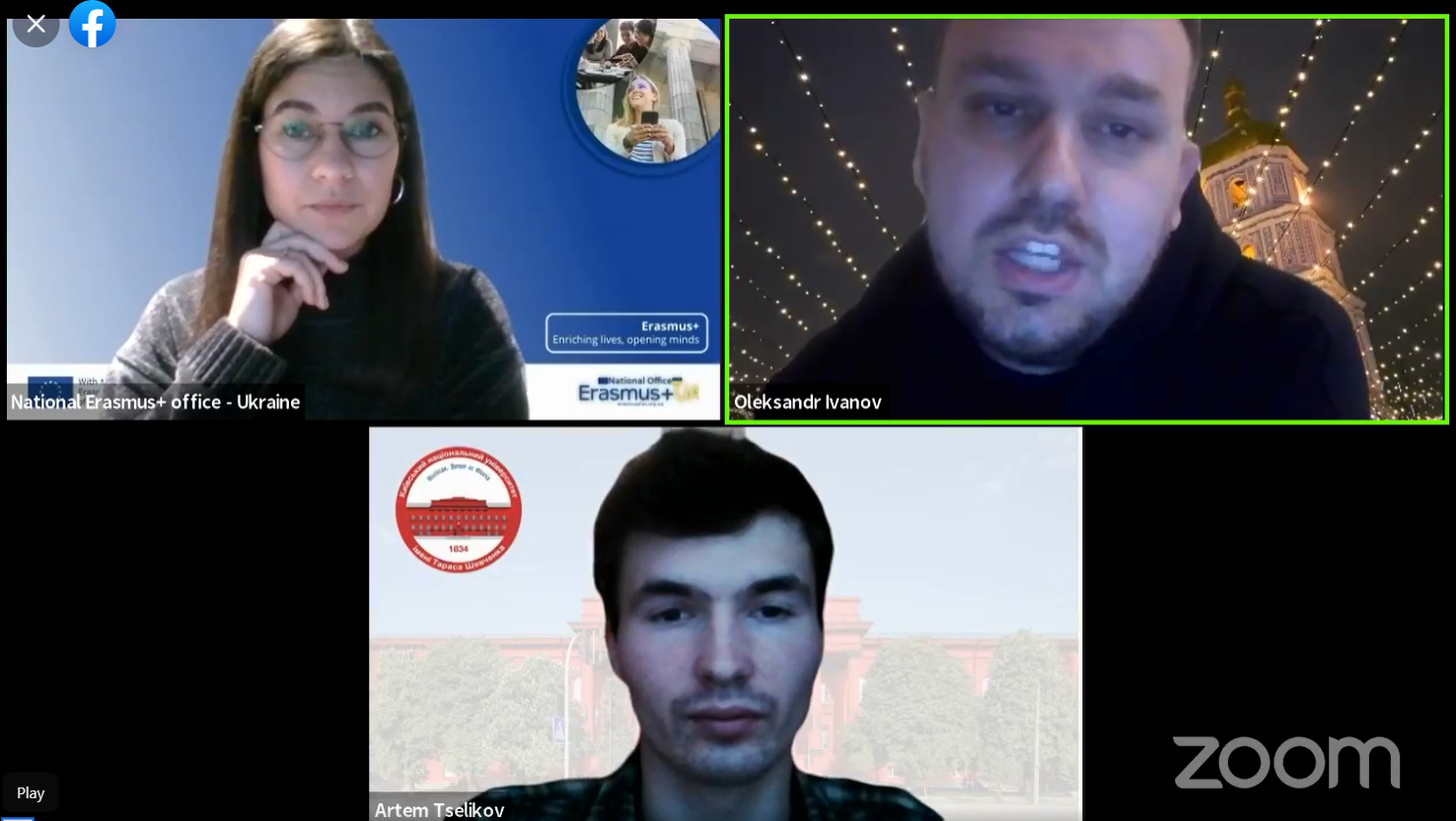 As part of the Information Week of the EU Erasmus+ Programme, a Facebook broadcast of the INFORMATION SESSION "Individual opportunities to receive Erasmus+ grants and scholarships" took place on December 24, 2021. The event was co-organized by the Ministry of Education and Science of Ukraine, the Delegation of the European Union to Ukraine, the European Executive Agency for Education and Culture (EASEA), Taras Shevchenko National University of Kyiv and Erasmus Student Network Ukraine.
The event aims to acquaint participants with the possibility of receiving grants and scholarships for training, internships, advanced training, internships at European universities, as well as scholarships for master's studies in Erasmus Mundus. At the beginning of the event, Veronika TKACHENKO, Manager of NEO — Ukraine, presented the new Erasmus+ Programme for 2021-2027, noting the differences and innovations of individual capabilities compared to the previous Program for 2014-2020. The speaker also presented in detail the exchange opportunities students and employees of the International Credit Mobility (International Credit Mobility) for training and practice, learning experience, internships and teaching. During the presentation, the main features and capabilities, requirements for participants, conditions of participation in competitions for the selection of participants were highlighted and step-by-step recommendations were provided for successful participation in exchanges.
Kateryna ZHDANOVA, Manager of NEO — Ukraine, presented the possibility of a full course of study at leading universities in Europe and the world on an Erasmus Mundus scholarship. The speaker presented the features of the direction, grant opportunities and provided step-by-step instructions on successful participation in the scholarship competition. The speaker also spoke briefly about the opportunities for youth exchanges and volunteering (European Solidarity Corps).
The event was also joined by Artem TSELIKOV, Erasmus Student Network Kyiv (ESN Kyiv) and Oleksandr IVANOV, Erasmus Mundus Association Ukraine (EMA Ukraine), who presented the organizations, their support opportunities for Erasmus+ participants and Erasmus Mundus fellows, as well as opportunities to join their community and become an active Erasmusist.
SPEAKER MATERIALS (updated):
Presentation "Individual opportunities for Erasmus + grants and scholarships", Veronika TKACHENKO, Kateryna Zhdanova - download.

Presentation about Erasmus Student Network Kyiv, Artem TSELIKOV - download.

Presentation on Erasmus Mundus Association Ukraine, Oleksandr IVANOV - download.