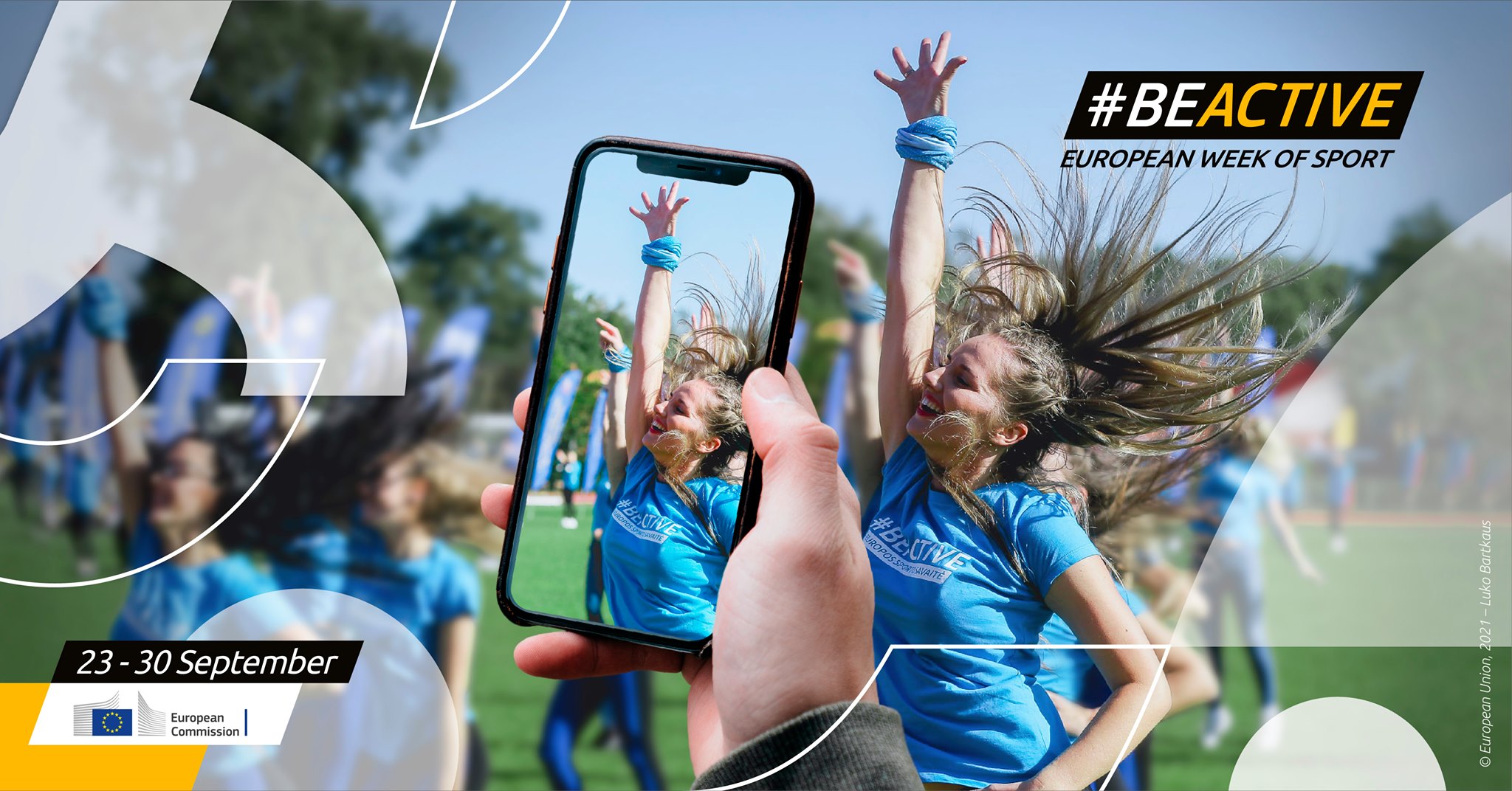 The team of the National Erasmus+ office in Ukraine congratulates on the beginning of the European Sports Week — BeActive Week — HealthyLifestyle4All!
Details of the initiative — https://sport.ec.europa.eu/week/about
We invite you to immerse yourself in the incredible atmosphere of the official opening — here
The Ministry of Youth and Sports of Ukraine in cooperation with the Olympic Committee of Ukraine and various organizations, European Sports Week BeActive in Ukraine is held since 2019. We invite you to join this initiative and all be together active #BeActive and responsible for a healthy lifestyle constantly! Ukraine is an active participant in the EU Erasmus+ Programme, in particular in the field of sports.
In the new EU Erasmus+ Programme for 2021-2027, among 4 competitions in the field of sports of the European dimension, 1 competition of Joint Partnerships for Cooperation was opened for organizations from Ukraine and other partner countries working in the field of sports. Such organizations can be project partners. You can learn more from the Programme Guide and the Video of the Erasmus+ Sports Information Day.
Ukraine already has experience in implementing such projects. Since 2015, international teams of 12 joint partnership projects have received funding from organizations from Ukraine, including the Olympic Committee of Ukraine, the National University of Physical Education and Sports, Dynamo Kyiv Football Club, the Klitschko Foundation and others.
Information on projects and their results is available and open on the EU project results platform — http://ec.europa.eu/programmes/erasmus-plus/projects/
In this database you can find useful resources for the results of all Erasmus+ projects, get inspired by new ideas, find partners for new project competitions. We expect good news about the opening of new opportunities for capacity building in sports.
Together with the Ministry of Youth and Sports of Ukraine we will inform you about opportunities and participation in competitions. New competitions in October / November 2021.
Subscribe to the news and follow the ads on the site and on social networks.
If your organization has not yet registered its profile on the Grants and Tenders portal and has not received a PIC code, then urgently to the NEO team — Ukraine, we will help you do it. An useful video about this first step.
Contacts for consultations from the National Erasmus+ office — Ukraine: +380993322645, This e-mail address is being protected from spambots. You need JavaScript enabled to view it , https://erasmusplus.org.ua/erasmus/sport.html
Information about Ukraine's participation.
P. S. Please note that due to the peculiarity of the project results platform, the link works in certain browsers. If you have problems opening the link http://ec.europa.eu/programmes/erasmus-plus/projects/ try in different browsers. Then open a detailed search and select criteria, for example: Erasmus + - Sports - Ukraine.