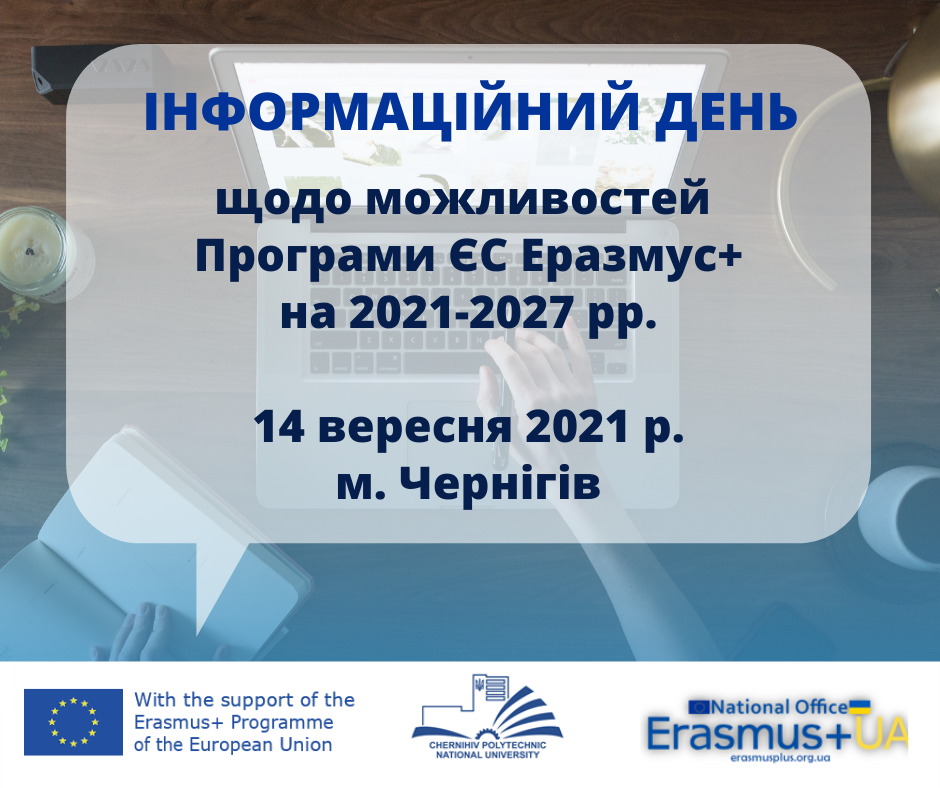 The National Erasmus+ Office — Ukraine invites you to take part in the Information Day on the possibilities of the EU Erasmus+ Programme for 2021-2027, which will take place on September 14, 2021 at the National University «Chernihiv Polytechnic».
What? Information day on the opportunities of the EU Erasmus+ Programme for representatives of higher, vocational (technical) education and youth organizations
When? September 14, 2021, 14: 00-16: 00.
Where? Chernihiv Polytechnic National University, vul. Shevchenko, 95, aud. 335 (3rd floor) with the possibility of online participation through the ZOOM platform.
Participation format: mixed
Confirmation of participation, as well as a link to ZOOM (for participants of the event in online format) will be sent to the e-mail specified during registration by September 13, 2021 (14:00).
Target audience: administrative staff and teachers of institutions of higher, professional (vocational) education and professional higher education, representatives of public and youth organizations
Speakers of the event — Veronika TKACHENKO and Petro KRAYNIK, managers of the National Erasmus+ Office — Ukraine (EU project).
Due to quarantine measures, the number of participants in the audience is limited (85 people). If more people want to join the event, a link to ZOOM will be sent.
During the event, please comply with quarantine requirements (use personal protective equipment, paramedics and keep a distance).
Language of the event: Ukrainian.
Anna DYVNYCH, Head of the International Relations Department of Chernihiv Polytechnic National University, +39 093 702 54 39;

Veronika TKACHENKO, NEO Manager in Ukraine, +38 099 332 26 45.