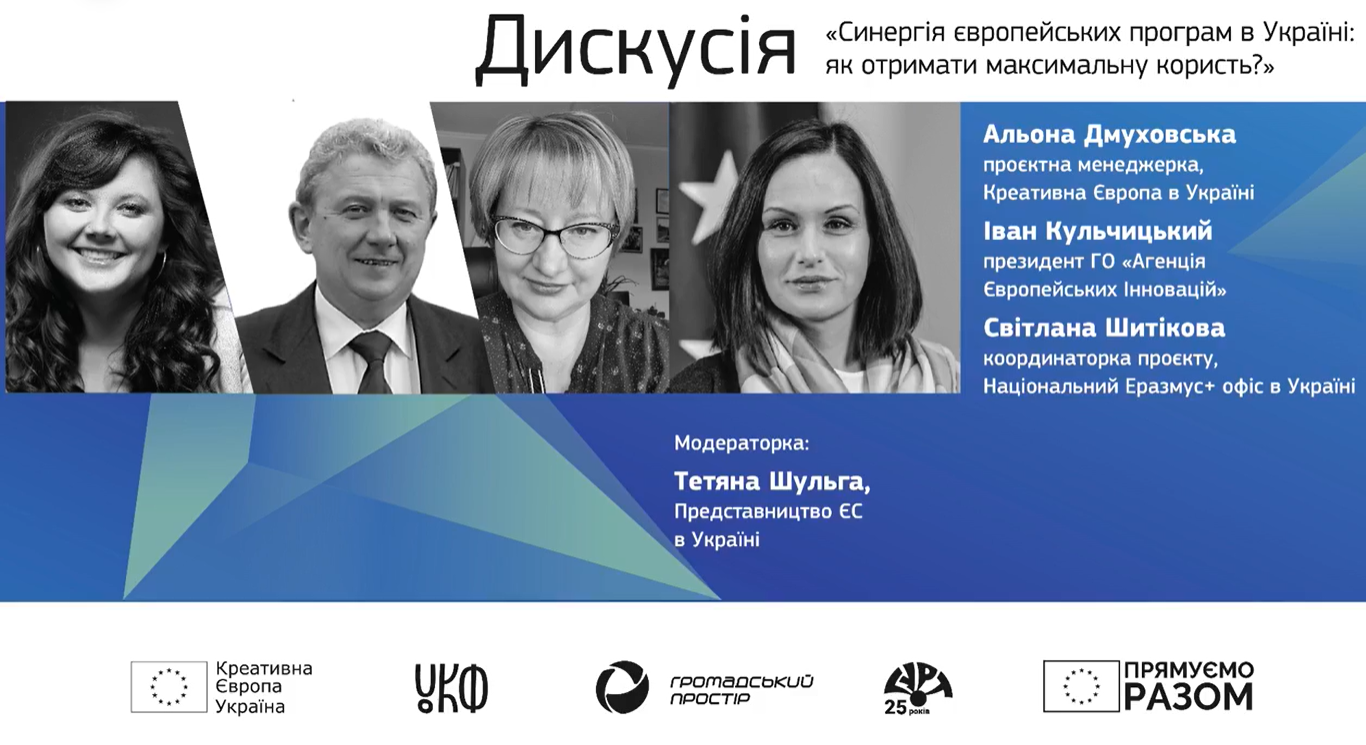 On May 25, 2021, the National Bureau of the EU Creative Europe Programme in Ukraine and the Ukrainian Cultural Foundation held for the fourth time the International Fair of Grants in the Field of Culture, which was held in a hybrid format. The information partners of the event were the Public Space and the GURT Resource Center. The Fourth International Grants Fair in the Field of Culture was opened by the Minister of Culture and Information Policy of Ukraine Oleksandr TKACHENKO.
"The programme is especially important for applicants because it supports and gives a chance to realize the creative potential that creates a powerful product." — stressed the Minister of Culture and Information Policy.
The National Programme Bureau in Ukraine at the Fourth International Grants Fair in the field of culture shared the results of the first 7 years of the programme and its activities. At the same time, during the event, everyone had the opportunity to learn about open grant opportunities for Ukrainian organizations.
Special attention was paid to the prospects of synergy between the largest European grant programs: Horizon Europe (formerly Horizon 2020), Erasmus+, and Creative Europe, and, of course, how Ukrainian artists can use their opportunities for stable work on international level.
During the event, the coordinator of the National Erasmus+ Office — Ukraine (EU project) Svitlana SHYTIKOVA presented the new EU Erasmus+ Programme for 2021-2027, its opportunities for Ukrainian organizations in the field of education, training, youth and sports, as well as provided clear recommendations regarding successful participation in the upcoming competitions. The Speaker focused on the existing results and projects of the previous Erasmus+ Programme from 2014, which as a result will synergize to build new quality partnerships with experienced Ukrainian partners.
In addition, visitors were invited to an offline intensive in Kyiv to prepare grant applications for European programs. Visitors learned about the team and competencies needed by organizations to implement projects supported by European programs, about the legal aspects of work, building international partnerships, testing their own ideas and budgeting grant projects.
Presentations of the following programs and projects were also held during the day: Ukrainian Book Institute, Ukrainian Cultural Foundation, Goethe-Institut in Ukraine, House of Europe, International Renaissance Foundation, Ukrainian Institute, Austrian Cultural Forum in Kyiv, Zagoriy Foundation and others.