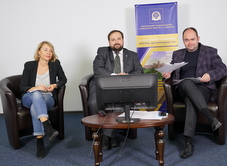 On November 4, 2020, representatives of Karazin University took part in the first virtual semi-annual autumn conference of the EU Erasmus+ "Aurora Alliance Capacity Support Development Program project".
The conference was attended by the Director of the Institute of International Education, Professor Oleksiy NAVROTSKY, Head of the Department of International Relations, Professor Oleksandr KHYZHNYAK, Project Manager of the Department of International Relations Olena MASHYNTSOVA.
The coordinator of the program was the Free University of Amsterdam. The speakers of the conference were professors Selma POROBICH, Anna BON and representatives of partner universities: Tetovo State University (Northern Macedonia), Southwestern University "Neofit Rylsky" (Bulgaria), Pavel Josef Shafarik University in Kosice (Slovakia).
The main goal of the conference was to strengthen the integration into the scientific community among the universities participating in the consortium "AURORA ALLIANCE". To this end, the creation of joint research projects.
During the conference, issues related to the impact of education on society, social transformation, learning without borders, community involvement in educational processes, the creation of a capacity support program, research platforms were covered.
Karazin University will host a joint conference next year and mobility for students and teachers following the project.
For reference. Karazin University has joined the AURORA Alliance as an Eastern European partner to pave the way for new innovative solutions in the European higher education and research sector. The AURORA Alliance has received a mandate from the EU to create an unprecedented level of institutionalized cooperation, the main purpose of which is to cultivate the skills and mentality of graduates ready to solve social problems.