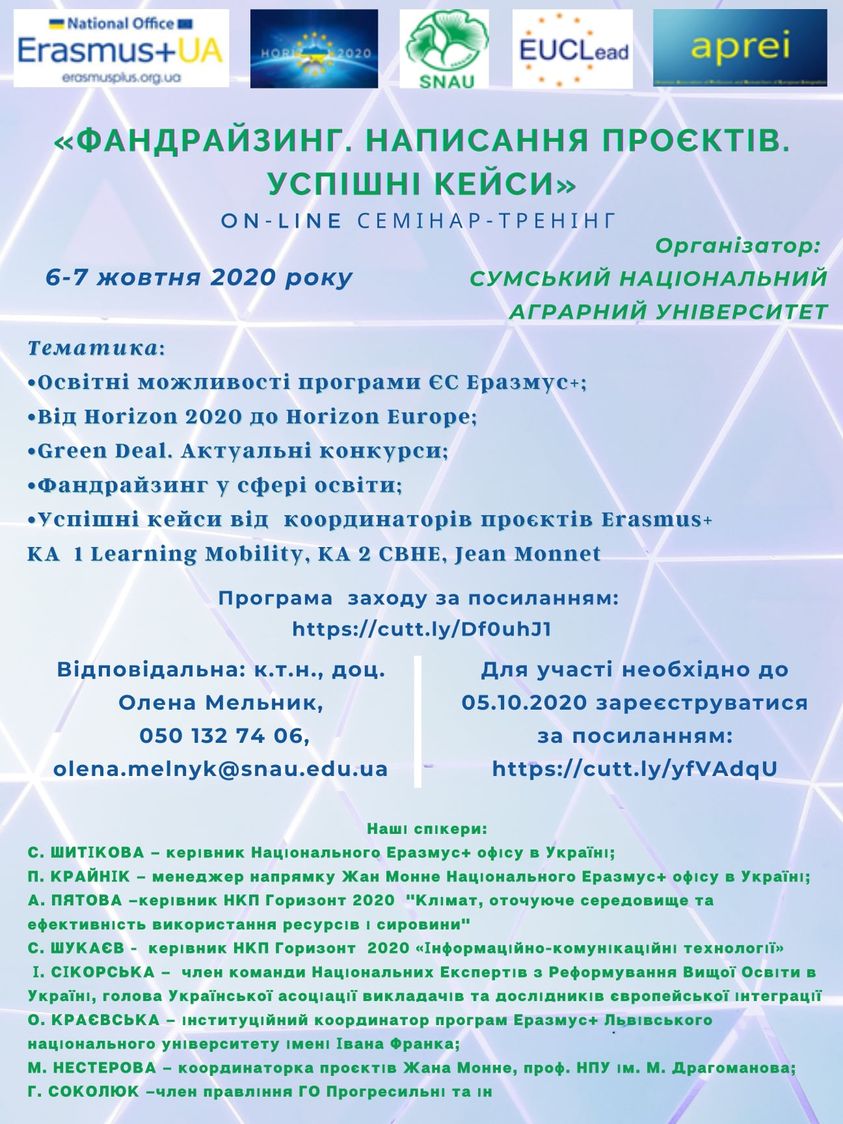 On October 6-7, 2020, a joint training seminar "Fundraising. Writing projects. Successful cases", published on the online platform of Sumy National Agrarian University.
The event was attended by over 140 people from all over Ukraine (scientists and representatives of the public sector).
The participants of the seminar-training were representatives of powerful institutions of higher education, such as Kyiv Polytechnic Institute. Sikorsky, National University of Life and Environmental Sciences, Kyiv National University. T. Shevchenko, Lviv National University. I. Franko, representatives of civil society institutions of various directions. This indicator shows that today in Ukraine there is a demand for quality and innovative research, educational and educational projects, and people are ready to implement them, need thorough knowledge in the field of writing project applications and finding sources of funding.
Among the speakers of the event - representatives of the national Erasmus+ office, national contact points Horizon 2020 KPI. Igor Sikorsky, public associations and free economic zones of Ukraine: Svitlana SHYTIKOVA, coordinator of the National Erasmus + office in Ukraine; Petro KRAYNIK, Jean Monet National Erasmus+ Office Manager, Ukraine; Angela PYATOVA, head of NCP Horizon 2020 in the thematic area "Climate, environment and efficient use of resources and raw materials", KPI. Igor Sikorsky; Serhiy SHUKAYEV, Head of NCP Horizon 2020 in the thematic area "Information and Communication Technologies", KPI. Igor Sikorsky; Iryna SIKORSKA, Chair of the Ukrainian Association of Teachers and Researchers of European Integration APREI, Project Coordinator Jeanne Monet, HERE team; Oksana KRAYEVSKA, institutional coordinator of Erasmus + programs at Ivan Franko National University of Lviv; Maria NESTEROVA, project coordinator Jean Monnet NPU. M. Dragomanova; Halyna SOKOLYUK, Member of the Board of the Progressive NGO; Olena MELNYK, coordinator of Jean Monnet Department, Head of the Project Sector of Sumy NAU, Member of the Board of the Ukrainian Association of Teachers and Researchers of European Integration APREI; Oleg PASKO, head of the Research Center of Sumy NAU; Larysa KALACHEVSKA, Head of the International Department of Sumy NAU; Tetyana SHEVCHENKO, Jean Monet Project Coordinator, Sumy NAU Research Center.
The first day of the seminar was devoted to finding sources of funding for research and educational projects, including Erasmus+ KA1, KA2, Horizon 2020, DAAD, British Council and others. During the second day, the participants were able to concentrate as much as possible on Jaen Monnet projects.
We hope that the acquired knowledge will help the participants of the event to develop scientific and public activities in order to bring Ukraine closer to European standards of education, science and quality of life!
Presentations of the NEO team in Ukraine: