JEAN MONET WINNERS DAY (03.12.2020)
On 3 December 2020 National Erasmus+ Office in Ukraine within the series of webinars for EU Erasmus+ project teams held an on-line event "JEAN MONET WINNERS DAY: hoHow to Implement the Project Successfully".
Read more...
SPHERE Seminar (26-27.11.2020, on-line)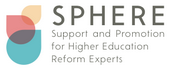 On 26-27 November 2020 the seminar on exploring micro-credentials was held as part of the 2020/21 SPHERE programme, under the theme: "Higher education responding to changing skills needs".
Read more...
Webinar (presentations) (November 25, 2020)
On November 25, 2020, the National Erasmus+ Office — Ukraine, the National Team of Higher Education Reform Experts, EU Erasmus+ Programme, the Institute for Leadership, Innovation and Development held a webinar on international academic mobility and recognition, based on the Bologna Process tools for internationalization and ensuring the quality of higher education.
Read more...
Page 3 of 113